Dining at the Malta National Aquarium, Qawra
Dining at the Malta National Aquarium, Qawra
The Malta National Aquarium is known for its distinctive venue and soothing atmosphere where you can enjoy views of St. Paul's Islands, Comino and Gozo. With a view of the 3 Maltese Islands, this is one of the most unobstructed seaviews of the whole archipelago.  To make it more interesting, customers can enjoy dining at these restaurants while having a good panoramic view of the sea.
Here are one of the top restaurants you can consider when taking a visit to the Malta National Aquarium:
La Nave Bistro
This bistro & restaurant forms parts of the Malta National Aquarium complex located in Qawra. The marine-themed dining area excels in always providing the best experience possible to its visitors, with the help of their qualified staff and top-notch skilled culinary chefs. La Nave Bistro provides for a wide variety of Mediterranean delicacies such as fresh pasta, grills, salads, and pizza. With the catering they provide for frequent visitors to the Malta National Aquarium, they succeed in being family-friendly and also focused towards the younger members of the family. With several dishes to chose from mainly from Italian, Mediterranean and European cuisines. Our pizza comes straight out from our oven with our pizza dough cooked to perfection.
Whether it is outside on the veranda or indoors, La Nave Bistro offers a peaceful atmosphere through its modern marine-inspired interior, making it the perfect dining destination.
Pjazza San Pawl
This kiosk is located just outside the Malta National Aquarium square. Right outside the Malta National Aquarium, you will find Pjazza San Pawl showcasing a public space to enjoy breathtaking views of St. Paul's islands and the open sea. Serving snacks and drinks to the public it cannot be missed as it is located in front of the Aquarium main square, adjacent to the marine themed playground.
Café del Mar Malta
Café del Mar is open mostly during the summer months between April and October as a beach club and restaurant for lunch and dinner. All through the cold months of winter, it is open on Sundays for lunch. It is famous for its infinity pool taking pleasure in wide-ranging sea-views, a chill vibe and amazing sunsets.
Their cuisines range from Asian, Mediterranean, and European. The restaurant has a variety of grills, pasta, pizza, salads, and sushi too.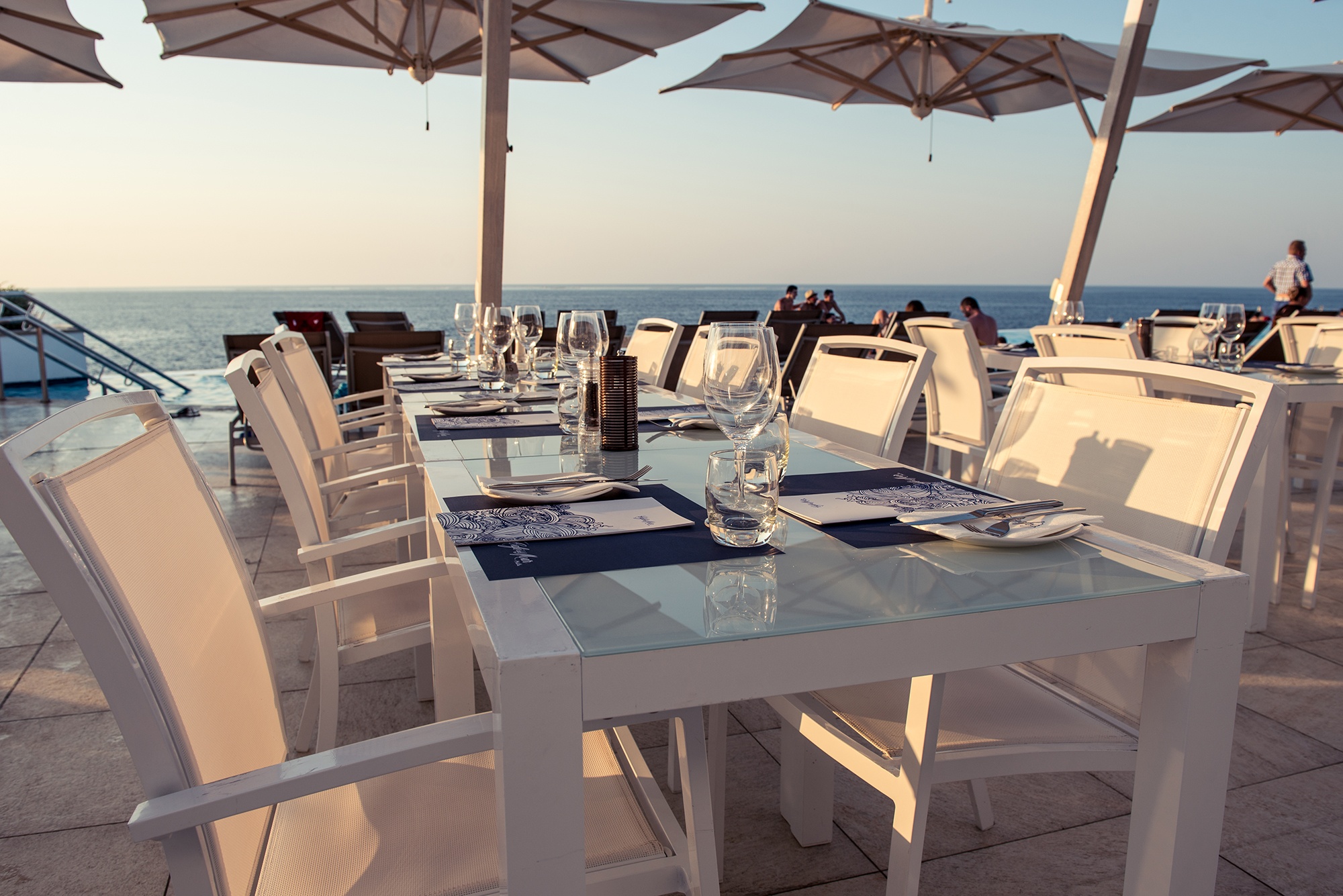 Why visit Malta National Aquarium?
The Malta National Aquarium has 41 tanks which also include reptiles, insects, and amphibians. Several tanks include Mediterranean species, as well as fish generally found in Maltese waters together with replications of historic artifacts that one can find in the seas around the Maltese islands.
The main tank of the aquarium houses species from the Indo-Pacific Ocean such as black tip sharks, zebra sharks, leopard sharks, bamboo sharks, rays, eels and other exotic species. The main tank is roughly 12 meters in diameter and has a walk-through tunnel that enables guests to encounter the fish at a much nearer range.
All tanks are professionally designed to replicate the underwater environment. Additional back of the house tours include a lab, food preparation room and quarantine facilities.
You can easily buy your tickets for the Aquarium online.