Research & Conservation
The protests continue: we want a healthy environment
Right now, a young Swedish girl has taken the world by storm and is spearheading the change we all need in 2019. Greta Thunberg was just 15 years old when her School Strike for Climate Change made the headlines last year. She skipped class, held out a placard and skipped school as a protest, a protest held outside parliament building She was alone, lonely and out of school: three things any 15-year-old should never be or feel.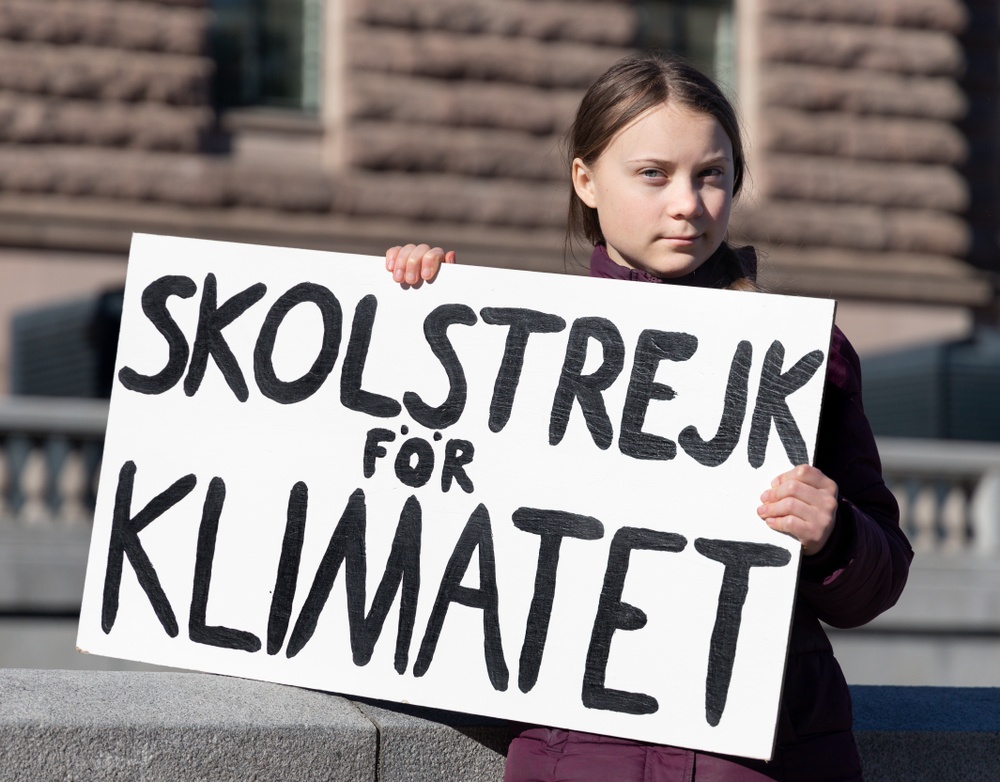 Kids should be in school, learning and looking forward to their healthy future, but this girl decided to take the power into her own hands. She refuses to be a part of the problem and grabbed it by the scruff of the neck. Fridays became her call to protest and gradually the protest crowd grew in size. People were not skipping school for the sake or fun of it, they did so to grab attention and to give the world leaders a crystal-clear message. When the international media took the story, it literally took off and last month millions of people went on protest every Friday of the month, causing chaos to the infrastructure and really driving home an important message: our politicians must listen before it is too late.
Between her first strike and last, Greta also took on an unlikely challenge. She was invited across the Atlantic to New York to take part in the UN Climate Summit, but in typical Greta fashion she wanted to cross the world on her own terms: using zero carbon emissions. How could she do this you ask? Well, sailing of course. She was built a zero-emissions sailing boat, and never used the engine as she sailed the seas across to her destination. Her aim was to attend the summit, but ensure she is not damaging the environment by traveling. Think about the hundreds of flights our world leaders and politicians take just to attend a two-hour meeting. The environmental damage a private or commercial aircraft makes is huge, so reducing that would be a good start for all leaders.
She had a crew of seasoned sailors to help her and was welcomed by a crowd of enthusiasts as she headed to New York City. The sailing boat, Malizia II was made for speed with no luxury and despite the rough seas it went incredibly well, and she was not seasick. She had to do her business in a bucket in order not to pollute the sea and slept on a bench in the boat.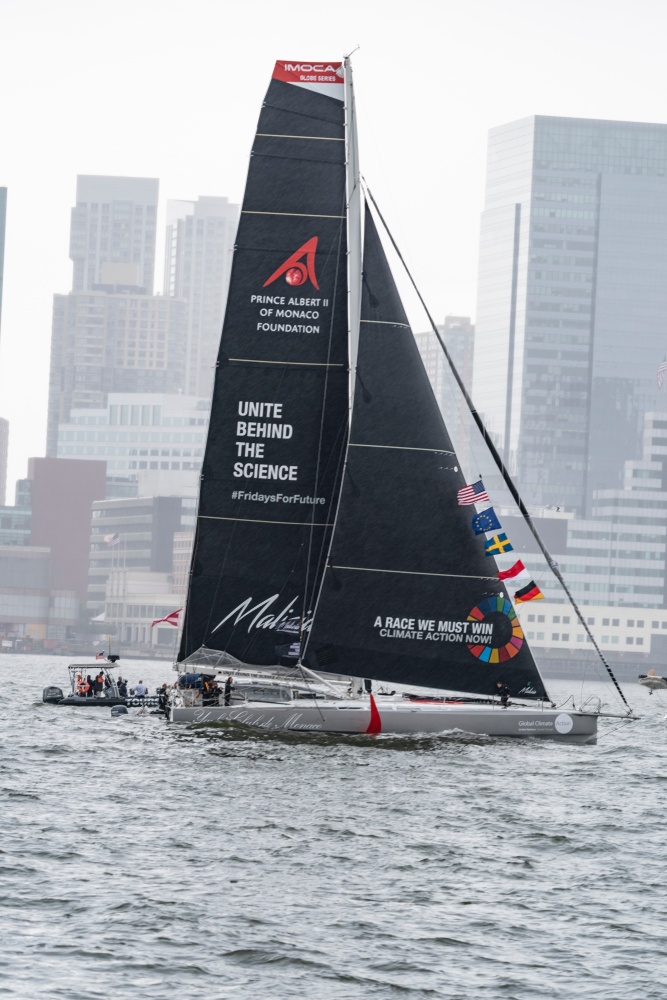 From meeting President Trump…
Fast forward a few weeks and she attends the UN Climate Summit to meet an open climate change denier in the shape of the leader of the free world: Donald Trump. The two had a frosty initial relationship to say the least, with Greta giving him the now famous stare as he walked past her. Her speech at the event was simply stunning, so if you missed it here are the main bits:
…To a phenomenal speech
"This is all wrong. I shouldn't be standing here. I should be back in school on the other side of the ocean. Yet you all come to me for hope? How dare you!.
"You have stolen my dreams and my childhood with your empty words. And yet I'm one of the lucky ones. People are suffering. People are dying. Entire ecosystems are collapsing.
"We are in the beginning of a mass extinction. And all you can talk about is money and fairy tales of eternal economic growth. How dare you!
"For more than 30 years the science has been crystal clear. How dare you continue to look away and come here saying that you are doing enough when the politics and solutions needed are still nowhere in sight.
With today's emissions levels, our remaining CO2 budget will be gone in less than 8.5 years.
"The popular idea of cutting our emissions in half in 10 years only gives us a 50% chance of staying below 1.5C degrees, and the risk of setting off irreversible chain reactions beyond human control.
"Maybe 50% is acceptable to you. But those numbers don't include tipping points, most feedback loops, additional warming hidden by toxic air pollution or the aspects of justice and equity.
To have a 67%  chance of staying below a 1.5C global temperature rise – the best odds given by the Intergovernmental Panel on Climate Change – the world had 420 gigatons of carbon dioxide left to emit back on January 1, 2018. Today that figure is already down to less than 350 gigatons.
"How dare you pretend that this can be solved with business-as-usual and some technical solutions. With today's emissions levels, that remaining CO2 budget will be entirely gone in less than eight and a half years.
"There will not be any solutions or plans presented in line with these figures today. Because these numbers are too uncomfortable. And you are still not mature enough to tell it like it is.
"You are failing us. But the young people are starting to understand your betrayal. The eyes of all future generations are upon you. And if you choose to fail us I say we will never forgive you. We will not let you get away with this. Right here, right now is where we draw the line. The world is waking up. And change is coming, whether you like it or not."
It is hard to shorten that speech into the main extracts simply because it is too powerful, so in a rare piece of editorial, I will leave it 90% untouched, in raw form, to hammer down her vital point.
Maltese protests
Students of local schools also followed Greta's example and made their stand in front of the Parliament Buildings in Valletta. LovinMalta.com reported that some 50 students skipped their scholastic duties to push their message.
The protest was organised by Extension Rebellion Malta, and branch of the global Extinction Rebellion.
We are skipping our lessons to teach one was the overarching theme, and we can expect to see more strikes in the coming months as the local government declares a climate emergency. This has been described as a "Victory for Malta and MP Jose Herrera added: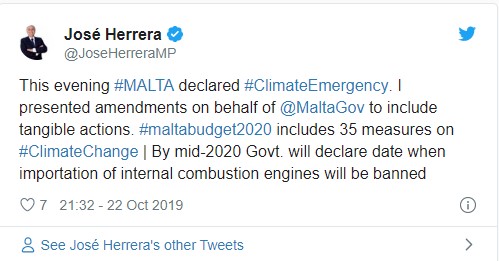 Extinction Rebellion
May 2018 in The UK saw the birth of a protest which keeps gaining momentum, and Extinction Rebellion is now at full force across the globe.
652 events are planned worldwide where civilians congregate and cause civil disruption in a non-violent way, to disturb and shake up cities. The organization has three aims detailed on their website
Government must tell the truth by declaring a

 

climate and ecological emergency

, working with other institutions to communicate the urgency for change.

Government must act now to halt

 

biodiversity loss

 and reduce greenhouse gas emissions to net-zero by 2025.

[16]
Government must create, and be led by the decisions of, a

 

citizens' assembly

 on climate and ecological justice.
Respectful disruption is the key, as they plan to show world leaders and governors that the current way of life is totally unsustainable and systems will collapse if things do not change. Targeting cities and major networks not only brings maximized attention but also puts pressure on businesses operating within those parameters.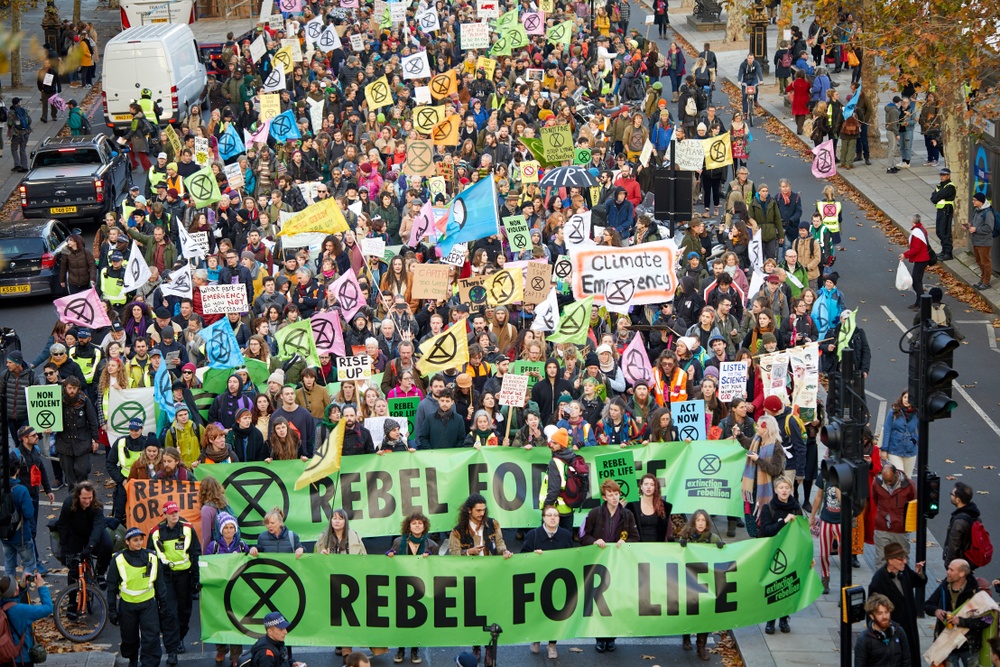 Earlier this month an English Paralympian climbed  ontop of an airplane at London City airport as his disruption and told Sky News:
"This is all about the climate and ecological crisis. We're protesting at government inaction on climate and ecological breakdown. They declare a climate emergency and do nothing about it."
Throughout the summer, hundreds of people have tried to shut the airport causing travel chaos as a protest to the environmental impact of air travel. During the first 10 days of October 800 protesters were arrested as the movement gains traction.
We'll keep an eye out on the Extinction Rebellion and the wonders of Greta Thunberg, updating you when we see necessary.

European Week of Waste Reduction
November 16th – 24th is the European Week of Waste Reduction and we have a host of events here at the Malta National Aquarium. This year the focus is "Change your ways, reduce your waste" and the whole European Union will be pulling in the same direction. Check out the map here to see which countries and venues are involved.
Our unique spin on this is a trash hunt, where we will have the task of retrieving trash hidden in different tanks. General conversations will take part around the trash items and what we can do to reduce their usage. Come and join in the fun from November 16th onwards at the Malta National Aquarium.