DISCOVER THE AQUARIUM
Azure Window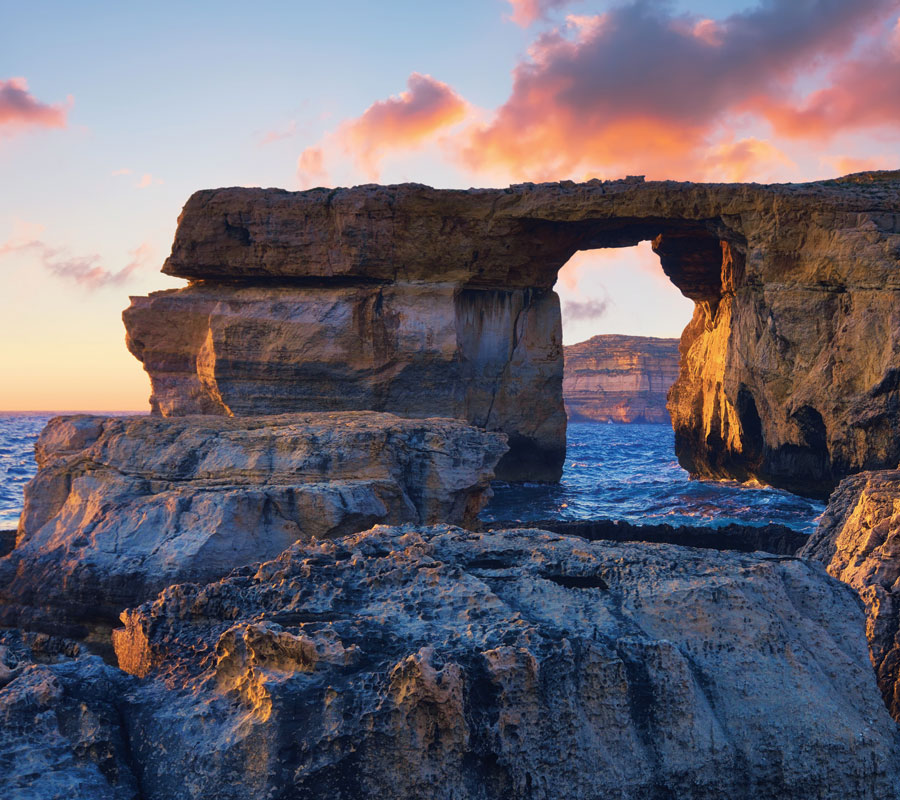 Fun Fact
Sadly, The Azure Window collapsed completely in stormy weather on 8th March 2017, but is now becoming a home to many Marine Life and will continue to live on as a popular dive site.
Where is the Azure Window?
The Azure Window also known as the Dwejra Window, was a natural limestone arch in Dwejra Bay on the western coast of the Island of Gozo. The Azure Window was a famous landmark appearing in several films and TV shows including Game of Thrones and was a must visit for those travelling to Gozo.
After decades of natural erosion that caused pieces of the arch to fall into the sea, the 28-metre-tall arch was finally downed by the strong winds and storms of the Mediterranean Sea. However, there's good news for scuba divers. After falling into the sea, the remnants of the immense structure form a striking underwater landscape creating a heaven like atmosphere for underwater enthusiasts.
What is there?
After the collapse of the window, the Azure Bay has been reborn as one of the most popular diving sites in the Mediterranean. Ranging between a depth of 16 to more than 100 feet underwater, the sharp-edged limestone chunks have created a network of passage ways attracting tourists who enjoy to scuba dive.
The Dwejra Bay still overs amazing scenery of the coast of Gozo. It creates the perfect setting for a great walk and a good location for some holiday snaps! The rocky cliffs and sea views make an amazing scenery.
Other popular attractions in the area include Wied il-Mielah Window, which is about 3.7 km away from Azure Window location and has the potential of becoming Azure Window alternative for tourists. There are boat rides for tourists to enjoy, the famous Dwejra Tower and a scuba diving favourite.
When is the best time to visit?
For underwater adventurers, the sooner they visit the site the more likely they are to witness the sharp edged rocks lying on the sea bed, as currents of the Mediterranean is likely to change the appearance of the rocks forming the passageways. Dwejra Bay beings on the western coast of Gozo, offers magnificent views of the sea, especially sunsets.
Visits to the Island of Gozo are exciting throughout the year and a great place in the Mediterranean to spend your lavish holidays. You'll need to take a ferry from Cirkewwa in Malta and in general you'll experience a tranquil island.
There is a lot of nature to experience at Azure Window and we are sure you would recommend it to your friends and family too after your visit.