DISCOVER THE AQUARIUM
Dingli Cliffs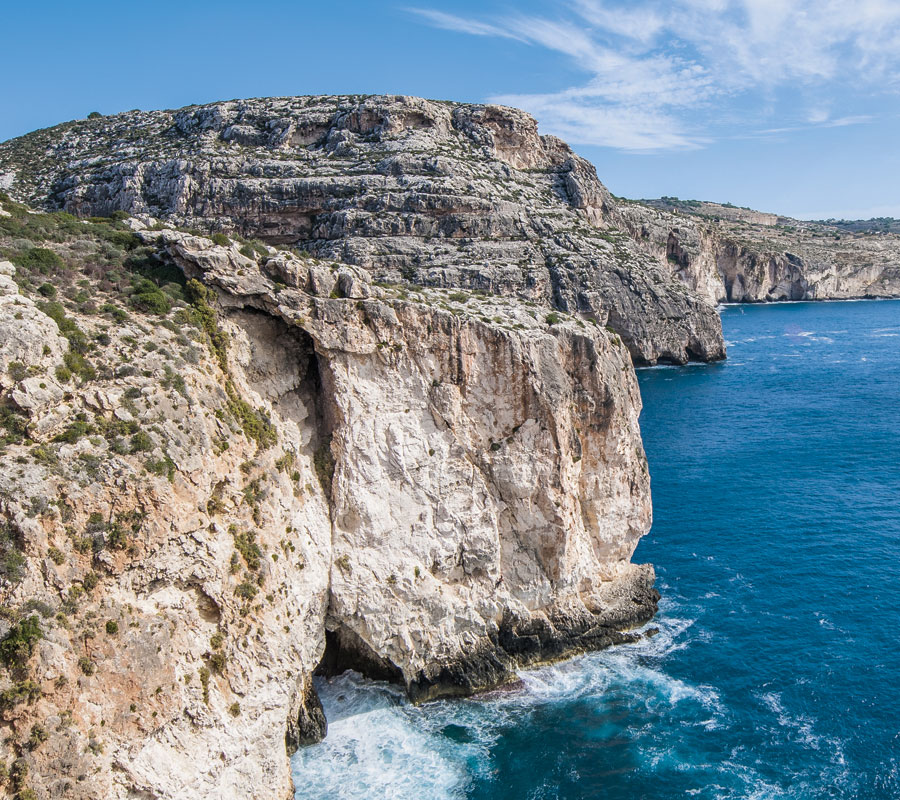 Fun Fact
Dingli Cliffs is actually the highest point of the Maltese islands with a tiny chapel dedicated to St. Mary Madgalene perched on the edge to mark this.
Where are the Dingli Cliffs?
Malta is a beautiful country, one that is absolutely packed full of beautiful landscapes and amazing places to see. If you are keen to experience stunning panoramic coastal views then make sure to head to the Dingli Cliffs. In our Aquarium the first area is themed around the Dingli Cliffs, the same exact cliffs that are located not far from the village of Dingli.
Located on Malta's western coast, at 253 metres above sea-level the Dingli Cliffs are the highest part of the Island. The cliffs became a popular attraction for tourists visiting Malta, heading there for a peaceful walk with boasting views of Filfa and the Mediterranean sea.
If you do decide to visit the Dingli cliffs, then one thing that you will quickly realise is that the views are completely breathtaking. You'll be able to enjoy also stretches of countryside beneath the cliffs with terraced fields, garrigue and rubble wall.
What is there?
The main attraction of the Dingli Cliffs are the cliffs themselves, however there is also a tiny chapel perched on the very edge, dedicated to St Mary Madgalene.
The cliffs extend all the way from Bahrija to the Munqar area where you will find another natural wonder, the Blue Grotto. Close by between Dingli and Rabat you can also find Malta's largest woodland called Buskett.
When is the best time to visit?
The walks along the cliffs are ideal at any time of year and any time of day. However, there is something truly magical about heading there during sunset. Being located on the western side of Malta, the sunset against the blue sea is something that just has to be seen and can't be properly described.
During the summer months it may get hot towards noon which may not be the best time to soak in the views under the scorching sun.
Based on the weather you can experience a calm blue sea, dramatic waves beating against the cliffs or even sometimes a blanket of fog beneath the cliffs! That said, if you are visiting the Dingli Cliffs you can experience a panoramic coastal view with a never ending horizon.
We love the Dingli Cliffs, and we are sure that if you do head there, that you will love them too!